Why duoFIT?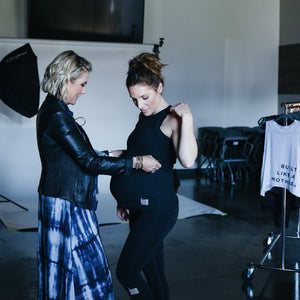 Made In America
duoFIT is not a fast-fashion brand, and our products are not made overseas. They're made right here in the USA with the help of our partners at Rightfully Sewn. Together with this local, Kansas City-based company, we work through every step of design and development - from initial sketches to final samples.
Rightfully Sewn creates jobs and opportunities through the business of fashion. They provide seamstress training for individuals so they can thrive in a specialized workforce that will re-establish Kansas City as an epicenter of garment manufacturing. They also propel KC fashion designers so they can supply the demand for high-quality, American-produced garments.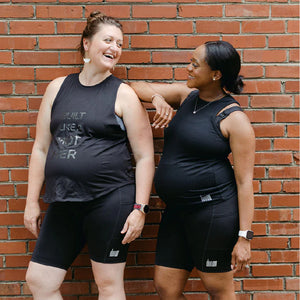 We Give A Damn
Each piece is a process, and takes 12 to 18 weeks to produce. We talk through every detail we can think of - fabric, thread, color, stretch, fit - and work with our partners at Rightfully Sewn to build it, re-build it, and then build it again. We have friends and family test out our garments for quality and functionality, and we make adjustments based on their feedback. We do this for every piece of duoFIT activewear because we care about your comfort during your journey to mamahood. You carry baby, and we carry you.
You Deserve It
Growing a human is hard work. Your body is changing weekly, and your pre-pregnancy activewear can only keep up before stretching out and becoming unwearable post-partum. Yes, duoFIT garments are an investment. But unlike leading designer brands, our leggings retain their shape after each wear, our sports bras don't dig or pinch, and our tops grow with you through each trimester. Trust us: you'll feel (and love) the difference with duoFIT.